I have been suffering from arthritis in my left great toe for many years. When wearing certain shoes, my big toe joint would swell and turn red. To ease the pain, I wore orthotics and stiff soled wide shoes. Cortisone injections and anti-inflammatory medication also became an essential part of my daily routine. All of this helped to manage the pain; however, within the last 5 years the pain worsened and eventually got to a point where I knew surgery was the only way to be completely pain free.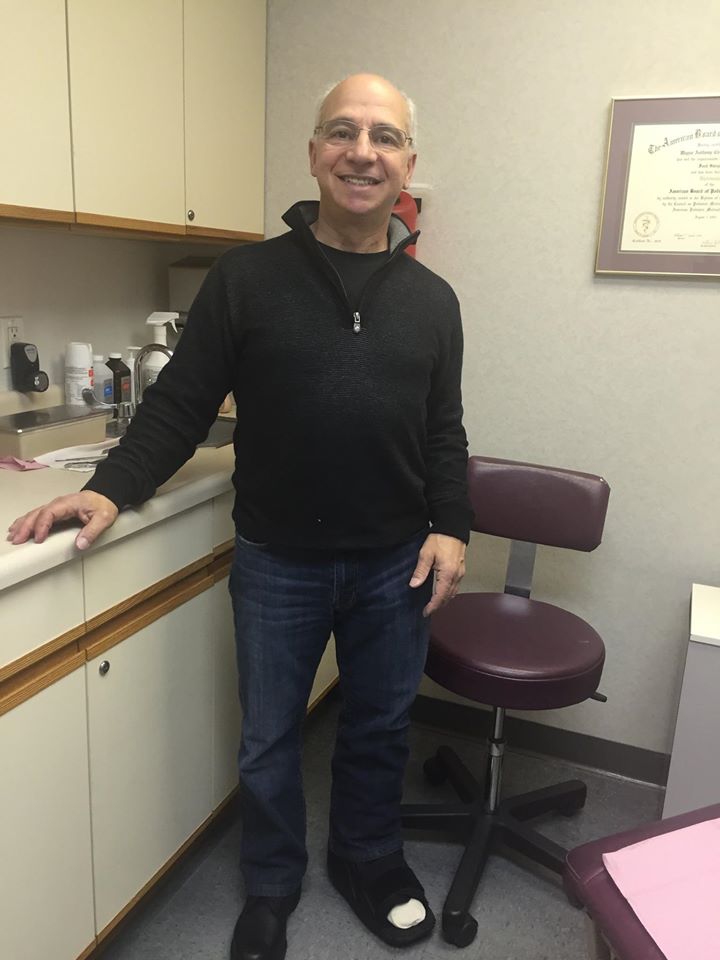 Outside the office I am very active. My activities include fly fishing, kayak fishing, hunting and competitive shooting. These sports require pressure to your feet and my arthritic great toe was limiting my activities. I couldn't even ride a bike without pain.
As you may already know, I've had a total of three surgeries performed on my right foot 30 years ago following a motor vehicle accident. Due to those surgeries, my right foot has very limited motion. This was one of the main reasons I procrastinated having surgery on my left foot for so long.
So after 5 years of just dealing with the pain, I finally decided to have the necessary surgery. Performing the same procedure on patients for over 27 years, it was now my turn to go through the 6 weeks of limping around.
My surgery was performed on February 2nd. To complete the surgery, the arthritic parts of the two bones making up the joint were removed. This was followed by cutting the first metatarsal bone in half, removing a piece of the bone, then putting it back together with 2 screws. The shortening of the bone allows a space to form in the joint which will allow me to bend my toe again once I am healed.
My other options were joint fusion or joint replacement. Joint fusion has a 3-month recovery on crutches and has a high risk of failure. However, when successful, it is a permanent fix. Joint replacement I actually perform most often on my own patients. It has a faster healing time and fewer complications then the other choices. It's down side is it wears on the bones that supports it. The patients that I recommend these options are less active or cannot have either of the other procedures performed because of their circumstances.
The first day after my surgery was very painful when pressure was placed on the foot. I followed the instructions I give all my patients and elevated my foot above the level of my heart by placing 2 seat cushions from a love seat under my lower leg. I kept the foot elevated this way throughout the day and night. I also kept an ice pack on my foot which was held in place with an ace wrap. My discomfort was controlled with Duexis (800 mg ibuprofen) and occasional Percocet. I also used a cane when walking for stabilization.
Today is my fourth day back to work and ninth post-operative day.  Tuesday and Wednesday mornings I actually performed joint replacement surgery then continued with office hours for the remainder of the day – seeing patients and getting caught up on the endless paperwork.  I have to admit I overdid it and am in pain today. I had to cancel my morning office hours and am back to elevating, ice and Duexis. I will work this afternoon though and see how it goes. Doctors are the worst patients.
How Useful Was The Information On This Page
[rating_form id="1″]